Welcome to andrewwiggins.ca
Who is Andrew Wiggins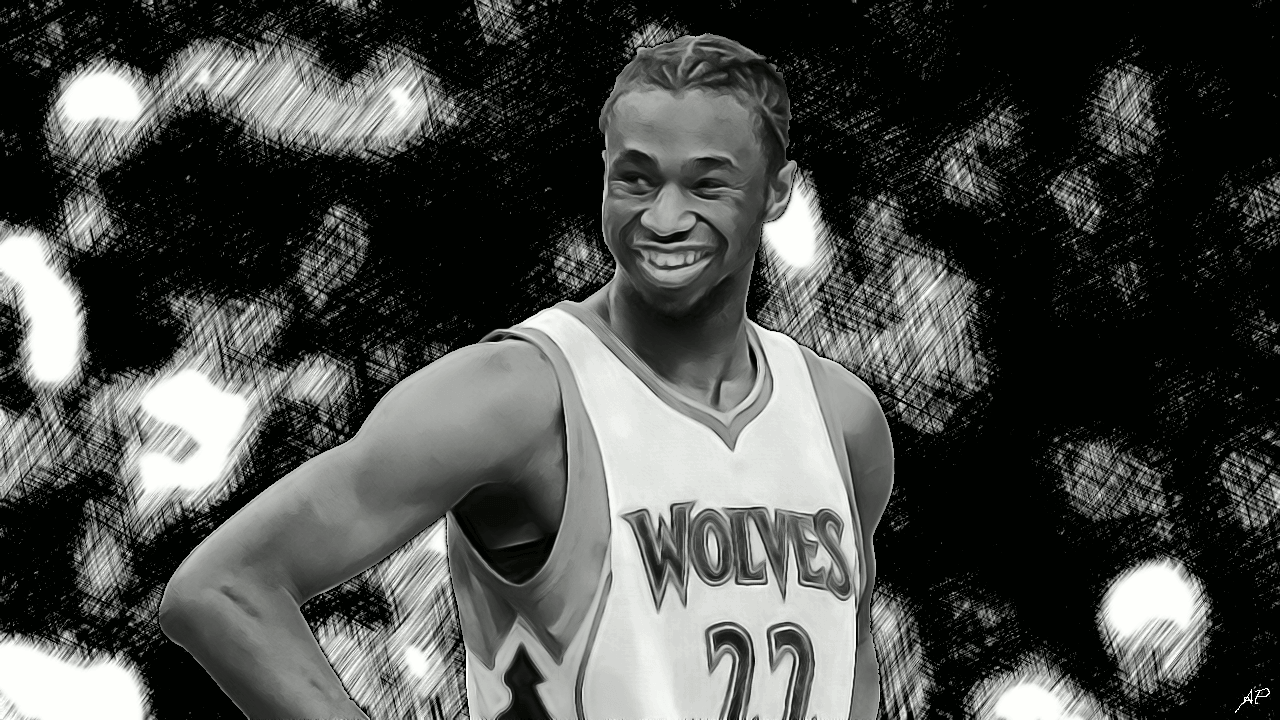 Andrew Wiggins was born in Toronto, Ontario, Canada on February 23, 1995. He was raised in nearby Thornhill, Ontario. His professional basketball career started on March 31, 2014 where he was the first overall selection in the 2014 NBA Draft, chosen by the Cleveland Cavaliers.
Without even playing a single game with Cleveland Wiggins was traded to the Minnesota Timberwolves on August 23, 2014 as part of a three-team trade between the Cleveland Cavaliers, the Minnesota Timberwolves and the Philadelphia 76ers.
Wiggins played the Small Forward position with the Minnesota Timberwolves, and on October 11, 2017, he signed a $148 Million five-year contact extension.
On February 6, 2020, Wiggins was traded to Golden State Warriors in a 6 player exchange.
Nicknames
Andrew has been compared to the legendary Michael Jordan. Since Wiggins is from Canada, one of his nicknames is Maple Jordan while he was in high school. Another comparison to Michael Jordan is the nickname Junior Jordan. Other nicknames include The Prospect and Mr. Fantastic.
BIO
Andrew Wiggins BIO
Full Name:
Andrew Christian Wiggins
Born:
February 23, 1995
Place of Birth:
Toronto, Ontario, CANADA
Age:
28 years
Height:
6'8" (2.03m)
Armspan:
7'0" (2.13m)
Weight:
202lbs (92kg)
Shooting Hand:
Right
NBA Draft:
2014: Round 1 / Pick 1 by Cleveland Cavaliers
College:
University of Kansas
High School:
Huntington Prep in Huntington, West Virginia
Professional Career
2014-2020:
Minnesota Timberwolves
2020-present:
Golden State Warriors
Position:
Small Forward
Jersey Number:
22
Other
Parents:
Mitchell Wiggins, Marita Payne-Wiggins
Siblings:
Nick, Mitchell Jr, Stephanie, Angelica, Taya
Girlfriend:
Mychal Johnson
Children:
Amyah Wiggins (Oct 11, 2018), Alayah Milan (April, 2021)
Early Years
Glen Shields Public School
(Thornhill, Ontario, CANADA)- Grade 2 to Grade 8
"A lot of great memories there. You know, everyday...after school, before school... we used to be in the back playing basketball"
Dufferin Clark Community Centre
(Vaughan, ON, CANADA). Rec centre behind high school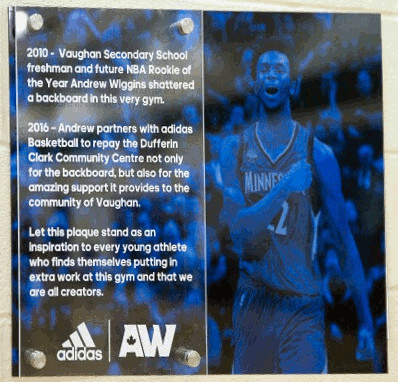 A plaque commemorates an event which occurred at the Dufferin Clark Community Centre. When Andrew was in the ninth grade, he shattered the backboard with a slam dunk.
On the plaque, it says:
2010 - Vaughan Secondary School freshman and future NBA Rookie of the Year Andrew Wiggins shattered a backboard in this very gym.
2016 - Andrew partners with adidas Basketball to repay the Dufferin Clark Community Centre not only for the backboard, but also for the amazing support it provides to the community of Vaughan.
Let this plaque stand as an inspiration to every young athlete who finds themselves putting in extra work at this gym and that we are all creators.
On February 13, 2016, Andrew returned home to where it all began to give back to his community.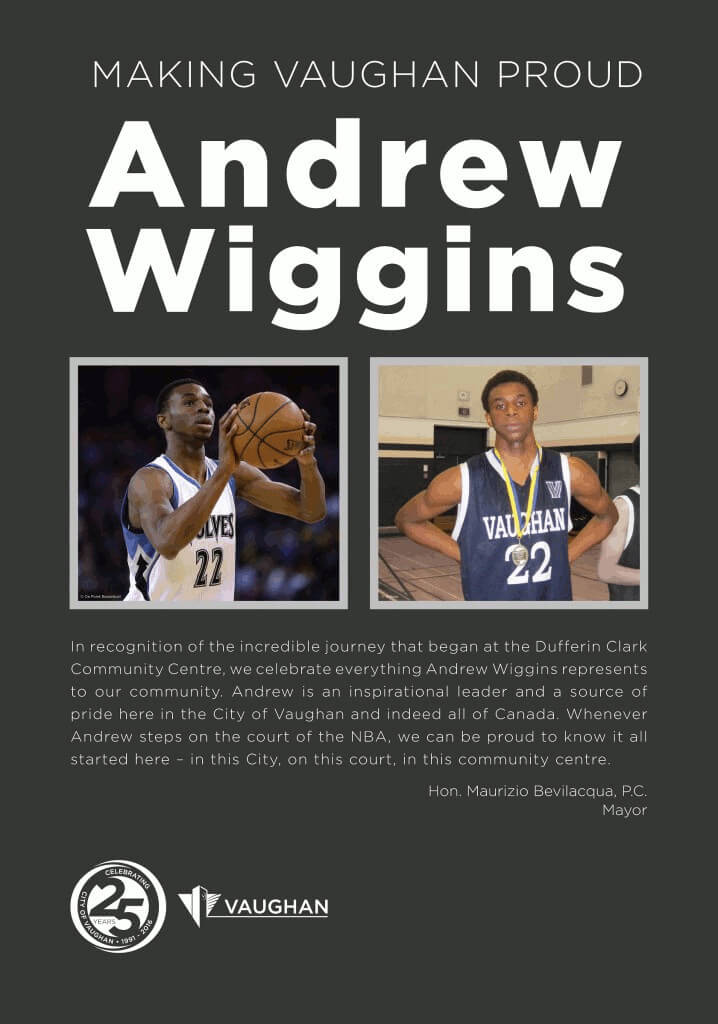 Making Vaughan Proud
Andrew Wiggins
In recognition of the increditble journey that began at the Dufferin Clark Community Centre, we celebrate everything Andrew Wiggins represents to our community. Andrew is an inspirational leader and a source of pride here in the City of Vaughan and indeed all of Canada. Whenever Andrew steps on the court of the NBA, we can be proud to know it all started here - in this City, on this court, in this community centre.
Hon. Maurizio Bevilacqua, P.C.
Mayor
Vaughan Secondary School
(Vaughan, ON, CANADA)
Andrew attended his first 2 years of high school at Vaughan Secondary School
Huntington Prep
In 2011, Andrew transferred to Huntington. Huntington Prep is a basketball-focussed college located in Huntington, West Virginia.
Kansas University
Andrew then proceeded to the Kansas University for 2013-2014 with the Kansas Jayhawks men's basketball program on May 14, 2013. Before the announcement, he had narrowed his choices to Florida State University, the University of Kentucky, the University of Kansas and the University of North Carolina. Wiggins joined the Kansas team on June 19, 2013.